Patient Centered Medical Home
A Medical Home is an approach to providing comprehensive and high-quality primary care. It builds partnerships with clinical specialists, families, and community resources. The Medical Home recognizes the family as a constant in a child's life and emphasizes partnership between health care professionals and families, for this reason it is based on the following characteristics: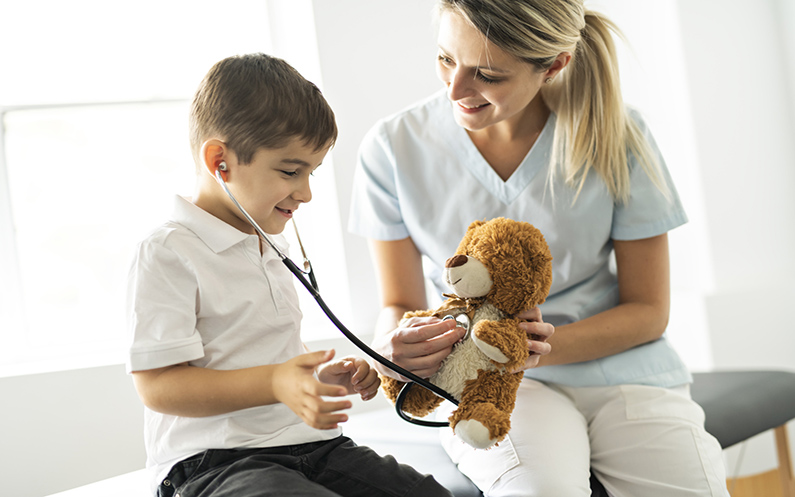 Accessible.
Family-centered, as a fundamental element in medical decision making.
Continuity of patient care from initial care through adulthood.
Comprehensive to the child and family.
Coordinated between the family, the medical team and the necessary organizations.
Compassionate about well-being of a child and family.
Respect about the family and child's culture, language, beliefs, and traditions (Culturally Effective).
The medical home encompasses five functions and attributes:
1 . Comprehensive Care
It is designed to meet the majority of a patient's physical and mental health care needs through a team-based approach to care.
2. Patient-Centered Care
The Medical Home delivers primary care that is oriented towards the whole person through partnering with patients and families, understanding their culture, preferences, unique needs and values.
3. Coordinated Care
It coordinates patient care across all elements of the health care system, such as specialty care, hospitals, home health care, and community services, with an emphasis on efficient care transitions.
4. Accessible Services
It seeks to promote patient care by offering different alternatives such as phone calls, emails, and schedule availability.
5. Quality & Safety
The Medical Home provide safe, high-quality care through clinical decision-support tools, evidence-based care, shared decision-making, performance measurement, and population health management.
Learn about the child and his family to provide medical treatments according to their particular characteristics.
Find Specialists when they are needed.
Obtain information about the child's medical condition in a timely manner.
Spend enough time with you to ensure you understand what you need to do reach your health goals and answer any questions you may have.
Be available to you after hours for your urgent needs that cannot wait until the next day.
Participate in decision-making about the child's medical treatment.
Provide tools and resources and help you find information to care for your child.